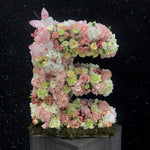 Make your special event tasteful, glamorous and refined flower arrangement Letter E. This blooming hand crafted composition includes an assortment of fresh florals. The number stands approximately 22-23 inch tall.
Order Flowers Online or Call⠀📱 +1 818-900-1101
Back
Previous product
$320.00
Next product
$640.00
Letter E
This product is currently out of stock and unavailable.