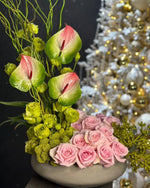 Introducing "The Dreams," a mesmerizing floral arrangement crafted to bring joy and warmth to your special moments.
The contrasting hues add a touch of drama and style, allowing you to personalize your gift to perfection. With same-day delivery available, we strive to make your experience seamless and convenient, ensuring your gift arrives on time to surprise your loved ones.
Visit our website at www.ayflowers.com or contact us at
6500 San Fernando Road, Glendale, CA 91201, or give us a call at
8189001101
to place your order and discover the magic of The Dreams. Let us help you create unforgettable moments with our exceptional floral creations and dedicated service.